Creswick Regional Park
Located 14 kilometres north of Ballarat at Creswick, this park embraces the hills once roamed by the artistic Lindsay family.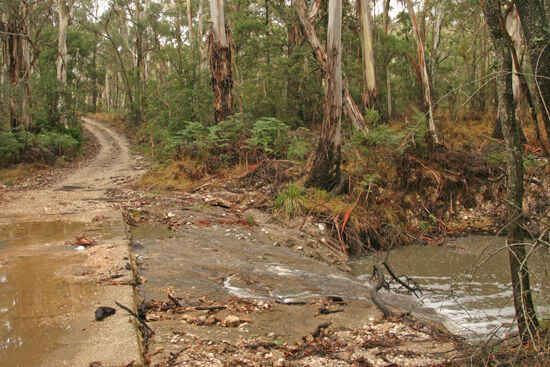 Today you can explore the park on a variety of short and longer walks, picnic by tranquil St Georges Lake or relax in the park's peaceful surroundings.
There are several picnic areas in the park. Wood barbecues are provided at most and electric barbecues are available at St Georges Lake.
Toilets and water are available at St Georges Lake and Number 1 camping ground at Slaty Creek has toilets only. You can camp for short stays at the Slaty Creek area. This is suitable for motor homes as well as tents. Campers should bring their own drinking water and firewood.
Image at right: Creek crossing between Slaty Creek Picnic Area Number 1 and Slaty Creek Picnic Area Number 2.
St Georges Lake
picnics, boating, swimming, walking, fishing
Popular with visitors and wildlife, St Georges Lake was once a mining dam used to supply water to the Creswick State Battery for crushing quartz. Built by hand in 1895 by many local tradesmen today it is a popular summer base for water activities. There are free gas barbecues and toilets are available in the main picnic area with wood barbecues to the east of the this site on the inlet creek.
The St Georges Lake site is relatively flat with well maintained gas barbecues and picnic tables on a grassed area. There is a partially sealed walking track (some sections of gravel) around part of the lake, offering generally good accessibility. The designated accessible toilet does not comply with current standards for access.
Slaty Creek
picnics, fossicking, walks, camping
Close to the township of Creswick, Slaty Creek is a great place to enjoy a bush picnic. Panning for gold along the meandering creek or taking a stroll beside old water races are two popular activities. Sit and watch the bush come alive with many species of birds. There are three free camping areas with wood barbecues and tables on the creek flats surrounded by tall Manna Gums. The main area has toilets and is more suitable for larger groups. (Parks Victoria map available to download or visit the Creswick Interpretive Centre).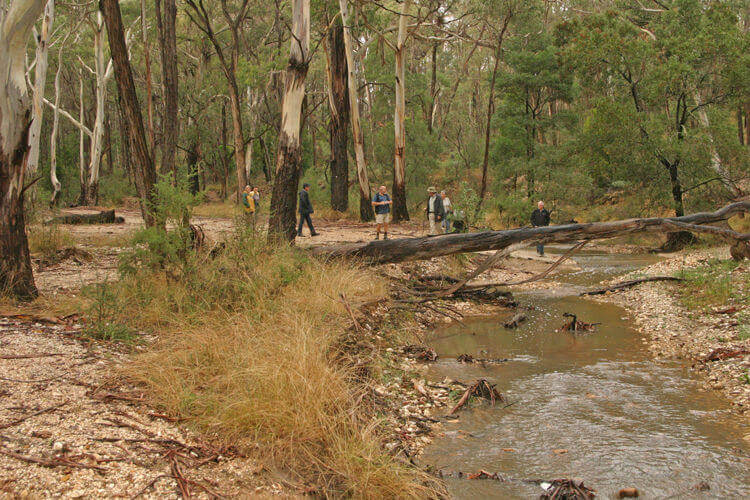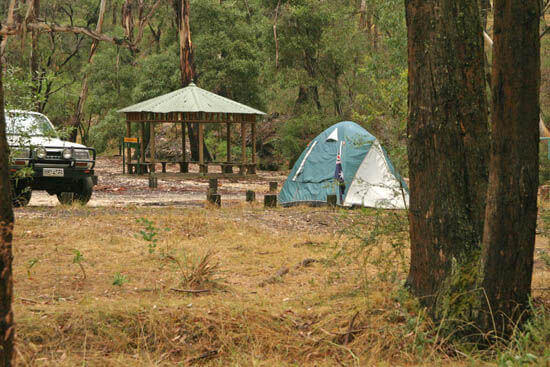 Image above: Slaty Creek Picnic Area Number 2
Image at right: Slaty Creek Picnic Area Number 1 with Rotunda
There are both camping and picnic sites at Slaty Creek, but the area is rough, without sealed surfaces or formal paths. There are some low obstacles. The designated toilet does not meet all access criteria.
Fossicking
Panning for gold along Slaty Creek is a popular pastime in the park. All adults must hold a current Miner's Right to engage in fossicking. Remember to fill any holes and leave the area as you found it. Relics must not be disturbed or removed.
Click here to purchase a Miner's Right online.
Picnic Facilities (La Gerche Gully)
Following John La Gerche's initial efforts, the State established a plant nursery at Creswick (now closed), which operated around the old nursery office. The Creswick Landcare Centre used to operate from this site. Facilities here include electric barbecue and picnic area, Landcare displays, information and educational walks. The site is co-managed by Parks Victoria and Seeding Victoria.
Fauna
Common birds in the area include Grey Currawongs, Crimson Rosellas, White-throated Tree-creepers, Grey Fantails, Thornbills, Robins and Honeyeaters. Two migratory species found in the gullies are the Rufous Fantail and Satin Flycatcher.

Koalas and Black Wallabies are common, although they can be difficult to locate. The Koala's main food source is the Manna Gum, a white-trunked tree with hanging ribbons of bark on its trunk. It is common in damper gullies along with Candlebark Gums.
Vegetation
Eucalypts growing in the park include Messmate, Manna Gum, Scent-bark, Broad-leaved Peppermint and Narrow-leaved Peppermint. Candlebarks also grow in gullies and are easily recognised by their stark white trunks.

Victoria's floral emblem, the Common Heath, is one of the plants frequently found growing under eucalypts. Look for its pink or white bells. There are many plants from the pea family growing, including the rich purple flowered Hardenbergia or "Sarsparilla".
Precautions
Walkers should always stay on designated tracks as there are many deep mine shafts throughout the park.
Click Here To Download a copy of Parks Victoria Map of Creswick's Bush Walking Trails (pdf file)