Picnic BBQ Playground
Calembeen Park
Situated alongside the Caravan Park in Cushing Avenue, only about 1 km from the Post Office, this venue offers excellent family friendly facilities, especially in summer with the popular water features including the diving platform as pictured below.
There are three picturesque lakes that dominate this park. There is even a paddling pool for young children. The electric BBQ is free to use.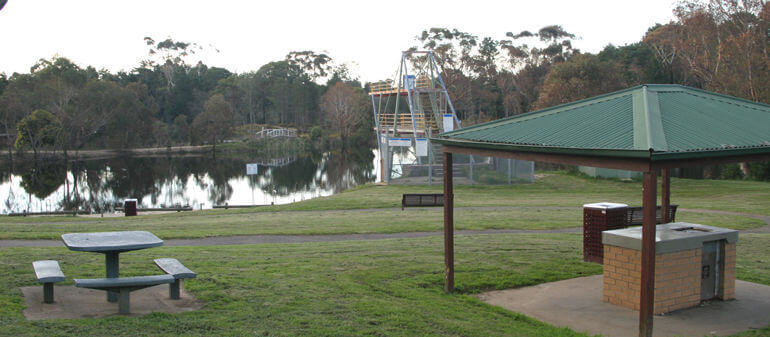 Park Lake (upper level)
Located off Bridge Street Creswick (250metres on the right side going up the hill), enter into the Mount Prospect Tennis Association grounds and follow the track around to the right hand side (20 metres) of the grass courts.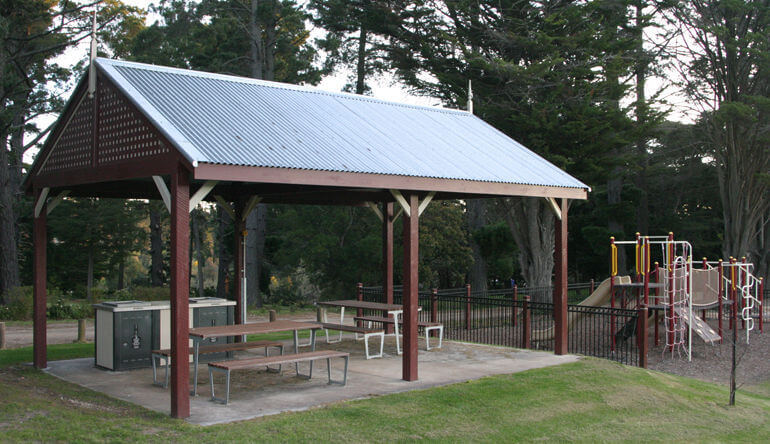 This excellent up-to-date picnic facility was built in 2009 and is Creswick's best kept secret. It is hidden away 'far from the madding crowd', so peace and serenity are a major feature of this spot so long as it is not a Saturday during the summer when tennis is in full swing.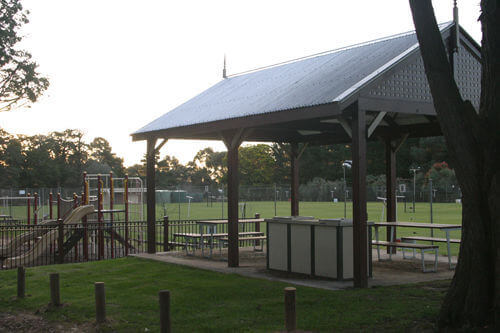 As can be seen in the photograph to the left, the grass tennis courts make an excellent backdrop to this beautiful picnic spot. And the children can safely amuse themselves on the playground whilst the adults can delight themselves with a glass of local Chardonnay or Shiraz in one hand, and a BBQ tool in the other.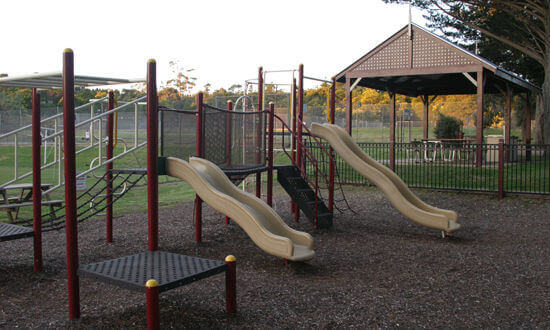 Photograph above: The excellent playground alongside the undercover barbeque facilities at Park Lake (upper level). Note that the actual lake is situated around 100 metres to the south of the playground and picnic facilities, and can be accessed on foot down a fairly steep incline with two paths that contain rugged steps, or approached by road from the Castlemaine Road.
On this website, look under 'Things to See or Do' and then under 'Walking Trails'. You will see a spectacular large photo of the beautiful Park Lake. A smaller version of this photograph appears below.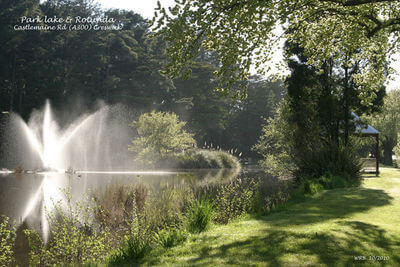 St Georges Lake
A great picnic spot. Serene and peaceful. Two BBQ facilities.