Tennis in Creswick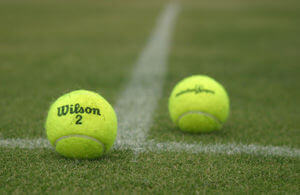 The Mount Prospect Tennis Association manages some impressive tennis facilities in Creswick.
There are four plexi pave hardcourts available to the public 7 days a week, free of charge.
The nets are up all the time; so have a great game!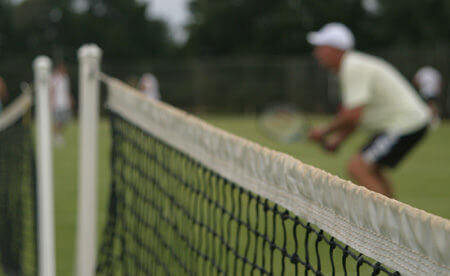 They are located just 100 metres north of Park Lake. By road, turn right off the main street (Albert Street) into Castlemaine Road about two hundred metres from the Town Hall, vere left almost immediately into Bridge Street. This takes you up a fairly steep rise; after about 200 metres turn right into the tennis complex area, and travel on either sides of the grass tennis courts for about one hundred and fifty metres to the hardcourts.
The grass courts are available to be hired at an hourly rate.

***** Cost of Grass courts - $30 per hour *****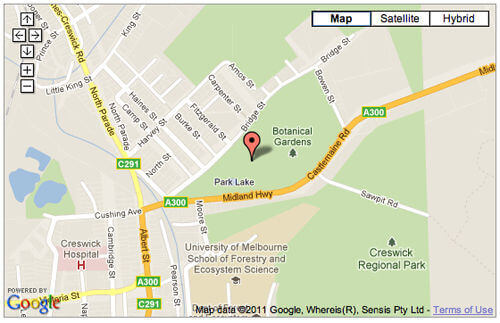 To hire the courts:
Email mtprospecttennis@bigpond.com
Phone James Maher: 0422 607 224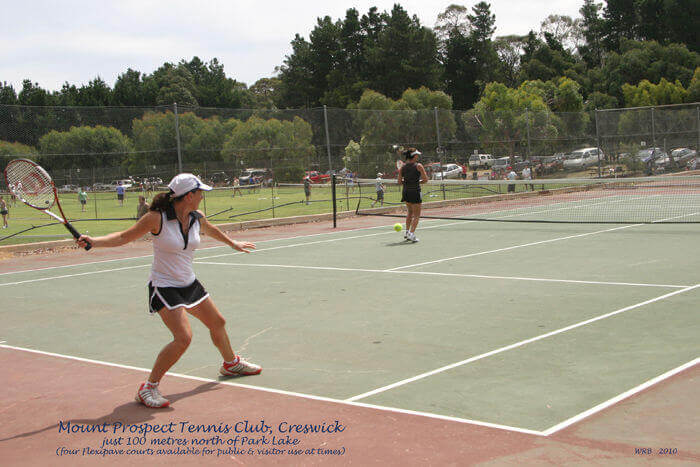 Above: One of the four Plexipave courts with nets up at all times. The courts are frequently available for those who have a sponteous desire to line up their family and / or friends for a hit.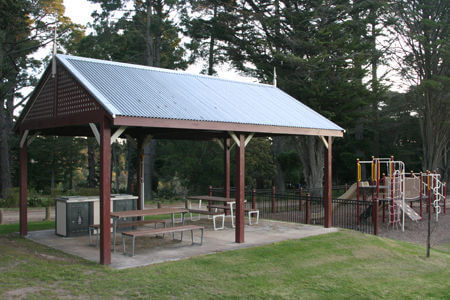 If you venture to the southern most courts, you will also discover an excellent undercover picnic area with two free electric BBQs, and a relatively new children's playground.
This is the ideal environment for a peaceful family barbeque away from the 'madding crowd', especially on a balmy autumn, spring or summer's day.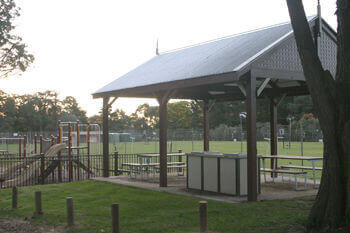 Mt Prospect District Tennis Association Inc. is well renowned for its well groomed sixteen grass tennis courts. It is located in the picturesque town of Creswick (as seen on the map above) and is surrounded by the old Creswick botanical gardens.
The Association caters for all age groups and runs four major pennant competitions a week, juniors, seniors, midweek ladies and a twilight corporate cup. The complex has twenty nine tennis courts, sixteen grass, four plexi pave and nine rebound ace. The clubhouse is available for functions and social tennis is offered. Come and visit the Association at Park Lake Creswick.
The complex has grown over the years and now comprises of twenty nine courts in total; sixteen grass, four plexi pave and nine rebound ace courts. The main draw card of the complex is the grass courts. Said to be the largest grass complex in southern Victoria, it is set in the trees hiding on the outskirts of Creswick. The courts are very well maintained and are a pleasure to play on.
Click Here to Link to the Mount Prospect Tennis Association
***************************************************************
All of this is in a very secluded quiet and peaceful parkland setting, within a short 100 metre walk in a southerly direction to the beautiful and serene Park Lake (as shown below).