Wineries
Captains Creek
Captains Creek Organic Wines is a small family owned vineyard producing premium handcrafted certified organic wines. Situated in the Central Highlands of Victoria, near Daylesford, this cool climate vineyard rises on the rich volcanic soils of the northern slopes of the Great Dividing Range.
Doug and Carolyn May are the third generation farming the land introducing wine grapes and establishing the vineyard in 1994 in a district traditionally cultivated for potato growing.
Captains Creek Organic Wines produces hand crafted premium quality certified organic wines from the noble grape varieties - Chardonnay and Pinot Noir.
Captains Creek Wines
Only select fruit from their unique vineyard is used to produce Captains Creek Organic wines.
The grapes are hand picked by supportive family and friends in late April/early May.
The wines are quite literally, hand made, using small open fermenters for the Pinot Noir while the Chardonnay is barrel fermented.
Pinot Noir
The Pinot Noir undergoes 2-4 days prefermentation maceration before fermentation on skins with regular hand plunging.
Chardonnay
The Chardonnay is 100% barrel fermented in 50% new Seguin Moreau French oak barriques with 11 months on gross yeast lees.
Both wines undergo malo-lactic fermentation and 11 months maturation in 50% new Seguin Moreau French oak barriques.
These old fashioned traditional wine making techniques add complexity and depth resulting in full bodied well balanced wines with classy but subtle oak characters.
These wholesome wines display classic cool climate features and gain their individuality from the vineyard environment.
Address: RMB 1298
160 Mays Road
Blampied
Victoria, 3364
Australia
Phone: +61 (0)3 5345 7408
Fax: +61 (0)3 5345 7408
Email: enquiries@captainscreek.com
Photographs above and below: Captains Creek cellar door
Click to download & view a PDF file of the Captains Creek Friday PIZZA Night leaflet
Click to download & view a PDF file of the Captains Creek weekend LUNCHES leaflet
<<<<<<<<<<<<<<<<<<<<<<<<<< >>>>>>>>>>>>>>>>>>>>>>>>

Mount Beckworth
Mount Beckworth Wines is situated on a small plateau on the east side of the mount, 25km north of Ballarat and only 6km out from the gold townnship of Clunes.
The property is owned and operated by Paul and Jane Lesock.
The vineyard was established in 1984, 10 acres in size, and planted with the premium grape varieties of Cabernet Sauvignon, Merlot, Shiraz, Chardonnay and Pinot Noir.
They are classed as a "boutique winery" with all wines being handcrafted and made by traditional winemaking methods to achieve complexity and balance.
They have been fortunate to date with their wines winning over 68 Awards in way of Gold, Silver or Bronze medals at various Wine Shows and also the first Ballarat Winery to be awarded a Trophy at the Ballarat Wine Show for best White Table Wine for the region.
We feel this as an endorsement of the quality of wines produced from this area.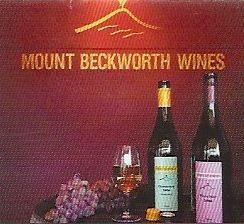 Cellar Door
Mount Beckworth Cellar Door is situated in the main street of Clunes and is called "Enoteca @ Clunes". This is only a 15 minute drive through very pleasant country from Creswick (18kms).
They are open every weekend for tastings and sales. Other times are by chance or appointment. Give them a call on Tel 5343 4207 or mobile 0457 367 718.
In Clunes you can enjoy the historic Fraser Street and visit the many other shops of interest. There is food and coffee right next door to our "Enoteca" - sit back and relax with a glass of any of our wines.
To contact Jane at "Enoteca" the mobile number is 0457 367 718.
Mount Beckworth Wines
Chardonnay (Unwooded) 2010
This wine is showing aromas of passionfruit, undertones of peach and nectarine and finishes with a fresh crisp palate.
Bronze medal winner, Central Goldfields Wine Showcase (2011)
Shiraz (2009)
Excellent follow up from our 2008 Trophy Winner. Our price has remained the same $20 per bottle. Has been awarded a Bronze Medal at the Cool Climate International Wine Show.
Bronze medal winner, International Cool Climate (2011)
Chardonnay (Unwooded) (2009)
Our new Unwooded Chardonnay has just been released and has just been awarded its first medal with a Bronze and the Ballarat Wine Show.
Bronze medal winner, Ballarat Wine Show (2010)
Bronze medal winner, Kyneton Wine Show (2010)
Pinot Noir (2009)
Typical cool climate fruit - lots of berry on the nose, intermingled with a smokiness.
Cabernet Merlot (2009)
A blend of 70% Cabernet and 30% Merlot. Medium bodied wine with hints of berry flavours intermingled with a distinct smokiness and mocha coupled with a soft tannin finish. Suggested cellaring up to 5 years.
Cabernet Merlot (2008)
Bronze Medal Winner - International Cool Climate Show 2010
Bronze medal winner, International Cool Climate (2010)
Gold medal winner, Central Goldfields Wine Showcase (2011)
Ballarat Sparkling Cuvee (2002)
"Coulter Cuvee" has a beautiful yeasty nose, followed by a creamy finish on the palate. This wine is only available at our Cellar Door in Clunes.
**************************
Contact Mount Beckworth Wines:
Enoteca@clunes - 48 Fraser street, Clunes
Phone/Fax - (03) 5343 4207
Or to contact Jane at "Enoteca" the mobile number is 0457 367 718
******************************************************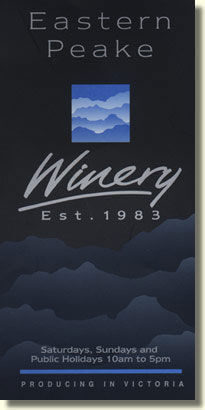 Eastern Peake is a leader in boutique wines, selling exclusively to restaurants and niche retailers nationally. With the brand new function/tasting room at the Vineyard, you are welcomed to experience Eastern Peake wines in absolute surreal surroundings.
The Lifespan of Eastern Peake - STORY

Eastern Peake Vineyards are set on a small plateau at Coghill's Creek in the Ballarat Highlands some 25 km from Ballarat. A dramatic backdrop of a rugged granite outcrop of Mt Bolton, namely 'Eastern Peake' is to the west of the vineyard, creating the stunning view seen from the property. The east the vineyard overlooks the Mammaloid Hills of the Creswick Plains, named by Major Mitchell during his epic trail.
The Eastern Peake Vineyard was established in 1983, the first plantings being 8 acres of Pinot Noir followed by 4 acres of Chardonnay in 1991. In 1994 the decision was made to establish a winery and cellar door facility at Coghill's Creek. The winery was completed in time for the 1995 vintage.


THE EASTERN PEAKE VINEYARD
EPV is positioned at 430 metres above sea level, which is relatively high within Australian vineyards. The vineyard is a flat relief between fertile undulations. The site was originally selected for a vineyard by Trevor Mast (now of Mt Langi Ghiran). The soil is duplex in nature with clay loam basalt overlying a subsoil of clay and fine iron stone. The cool climate is ideal for producing high quality Pinot Noir and Chardonnay.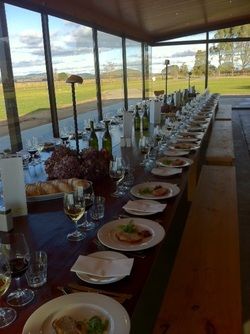 Location: 67 Pickfords Road, Coghills Creek 3364
Phone: 03 5343 4245 Mobile: 0419 501 175
Email: easternpeake@hotmail.com
Website: www.easternpeake.com.au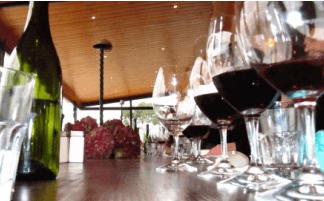 Winemaker: Norman Latta and Owen Latta
Owner: Norman Latta
Open: 11am - 5pm daily. It is advisable to ring first.
Features: BBQ, toilets
****************************************************************************************
Mt Coghill Vineyard
Mt Coghill Vineyard is located on the Clunes / Learmonth Road 22 kilometres from Ballarat and about 15 kilometres from Creswick and Clunes. It is next door to Eastern Peake Vineyard, and further down the road from Mount Beckworth Wines.
With three wineries within a few kilometres of each other, this makes for an excellent region for an afternoon of wine tasting.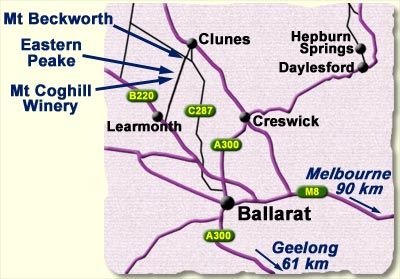 Wines: Chardonnay, Pinot Noir
Location: Cnr. Pickford's and Coghills Creek Road, Coghills Creek 3364
Phone: 03 5343 4329
Fax: 03 5343 4329
Email: mtcoghillwinery@iprimus.com.au
Owners: Ian and Margaret Pym
Winemakers: Norman and Owen Latta
OPEN: 10am - 5pm Saturday and Sunday
Features: BBQ and picnic facilities. Award Winning photos on display