Click Here to learn about the logo for Creswick
"A Living History"
Golf at RACV Resort
Golf at the RACV Goldfields Forest Resort
(located 2km south of the Creswick Post Office on the road to Ballarat)
This beautiful 6.2km course, designed by Tony Cashmore, incorporates natural vegetation in a bushland setting with 15 picturesque lagoons to add to the challenge of the game and beauty of the environment. For all golf bookings and Pro Shop enquiries please call (03) 5345 9628.
In designing the course, the emphasis has been on environmental sustainability with the use of native/drought tolerant indigenous grasses and limited to minimal chemical use.
The course is also watered with recycled treated water, thereby causing no strain on the environment and local water supply. This makes for a more challenging course and means that native animals will remain in this habitat.
This fantastic course is open 7 days per week to the public and resort guests. Dress etiquette applies.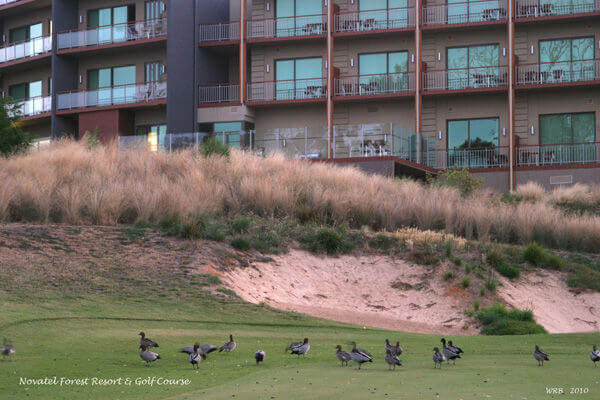 Aerial Image of the RACV Goldfields Resort Resort and Golf Course located just 2 km south of the Creswick Post Office.